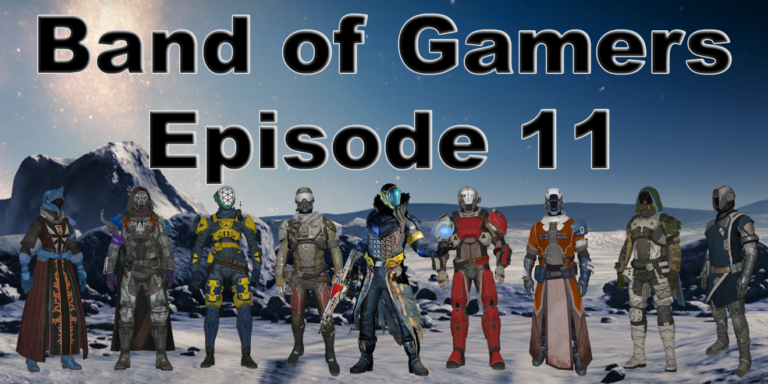 Band of Gamers Podcast
Episode 11, June 4th, 2015
In this episode of the "Band of Gamers" podcast Osiris Prime, DBQhams and Greylock3491 discuss what they've been playing as well as good movies that were made into good games.
Segment 01 – What We're Playing:
DBQhams: – Heroes of the Storm, Wolfenstein: The New Order
Osiris Prime: – Strider (Streamed on Twitch), Witcher 3, Advanced Warfare, Lara Croft – Relic Run (mobile)
Greylock3491: – Destiny House of Wolves … grind?, ODST dl + installed (under Halo 3,) Heros of the storm dl+installed, Stryder stream, Moon Wreck book 3 and 4
Segment 02 – News Items/Topics of the Week:
Osiris Prime – Gaming Announcements – Planetside 2 (PS4 June 23), Alienware Steam Machines (October 16th if you preorder otherwise you'll wait until official launch on November 10), Fallout 4 (TBA), Xcom 2 (sequel to Enemy Unknown, November 2, 2015 for the PC), Nathan drake collection (ps4 oct. 9th) Lego Worlds, Steam early access – Out Now
DBQ Hams – Steam refunds http://kotaku.com/steam-is-now-offering-refunds-1708492000
Infinite crisis shutting down
Discussion – should MS and Sony follow suit?
Greylock3491: – BOG site now up! New PS4's, Uncharted Nathan Drake Collection, LEGO Worlds Trailer, Splatoon reviews …dbqhams picked up amiibo – and amiibo discussion
Segment 03 @ 54:45  – Topic of the Week – Good Movies to Good Video Games
DBQ: Telltale's Back to the Future, Spider-man 2, Chronicles of Riddick: Butcher Bay,
Prime: SNES Star Wars games, xmen origins: wolverine
Grey: Atari 2600 Empire Strikes Back, Genesis – Jurassic Park, PC – X-Wing, Jedi Knight,
If you enjoyed the podcast and would like to join the conversation please feel free to reply to this post, or drop us an email at Podcast @ Band of Gamers . net!
– The Band of Gamers crew
Podcast: Play in new window | Download