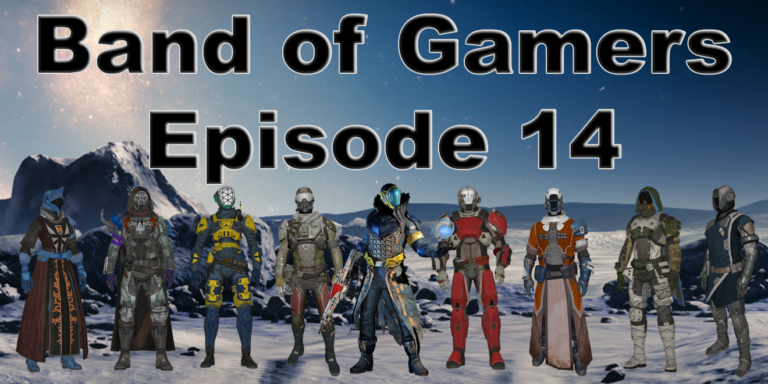 Band of Gamers Podcast
Episode 14, July 16th, 2015
In this episode of the "Band of Gamers" podcast DBQhams, Osiris Prime, Zeuxidamas, and Greylock3491 discuss what they've played, news of the week, and their Fall Game List.
Segment 01 – What we've played this week:
DBQhams: – Gaming on the go w/ PS Vita PS+ games (Kick & Fennick, CounterSpy, Race the Sun, Whoa Dave, Rogue Legacy); Fire Emblem Awakening; Battlefield Hardlines, Heroes of the Storm
Osiris Prime: – PC Gaming – BLOPS, Red Faction Gorilla and DC Universe online, Ulitmate Xbox Sale – bought WWE 2k15, goat simulator and Saints row 4 (comes with Re-elected and Gat out of Hell, didnt' play yet), COD AW (stepping away for awhile), Grand Theft Auto 5, Strider (streamed but didn't stream?!, I'll explain) Minecraft (alone and with my son), ,
Zeux: – batman: arkham knight, terminator genisys revolution, red bull air race, overkill 3
Greylock3491: – Destiny HoW, FieldRunners ios,
Segment 02 – This week in gaming news:
DBQhams: http://www.forbes.com/sites/insertcoin/2015/07/12/nintendo-president-satoru-iwata-dies-at-55/1
Osiris Prime: http://gamepolitics.com/2015/07/14/comcast-launching-game-streaming-service-beta (http://corporate.comcast.com/comcast-voices/game-on-experience-a-whole-new-way-to-play-on-your-tv)
Zeux: http://www.gamesradar.com/brothers-in-arms-furious-4-battleborn-gearbox/
Greylock3491: Amazon Prime Day 🙁
Segment 03 – Games we plan on buying this fall:
DBQhams: – Rare Replay, Gears of War:UE, Taken King, Mario Maker, Battlefront
Osiris Prime: – Blops 3, Battlefront,, Just Cause 3 and Rise of the Tomb Raider.
Greylock3491: – Forza 6, Taken King?, R6Seige?, Halo 5!, Blops 3?, Battlefront!, and possibly a PS4 with Uncharted Collection/Remastered, No Man's Sky?
If you enjoyed the podcast and would like to join the conversation please feel free to reply to this post, or drop us an email at Podcast @ Band of Gamers . net!
– The Band of Gamers crew
Podcast: Play in new window | Download