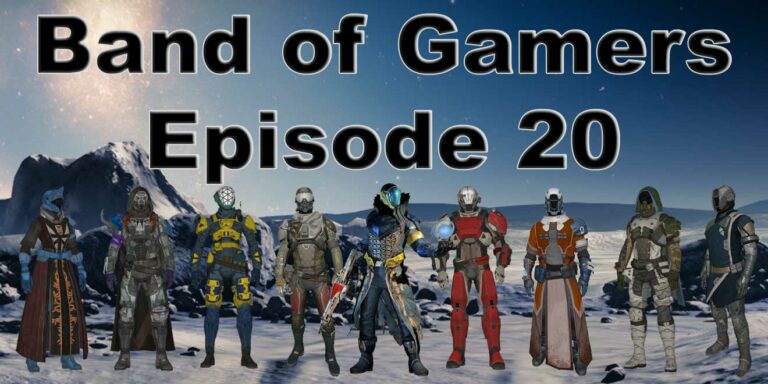 Band of Gamers Podcast
Episode 20, September 21st, 2015
In this episode of the "Band of Gamers" podcast DBQhams, Osiris Prime, Zeuxidmas and Greylock3491 discuss what they've played, the news of the week, and Destiny 2.0 (TTK.)
What we've played this week:
Osiris Prime – COD AW (BO3 Beta, got me back into playing AW), Minecraft, Elder Scrolls Online, Watch Dogs, GTA 5
Zeux – Borderlands, NFS UnderCover, PainKiller!, Rage, Trackmania 2 Canyon, Unreal (all on PC + monkeying with streaming, settling on XSplit)
DBQhams – Destiny Taken King, Disney Infinity 3.0
Greylock3491 – Not Forza, not Destiny, Halo MCC
This week in gaming news:
Osiris Prime – GTA Freemode Events
Zeux – Star Wars Battlefront Uses Dedicated Servers, may the ping be with you, This Week's PC Gaming Deals: Elite Dangerous is 40% off on Steam ($27), Every Prince of Persia game for $15 on GamersGate, Wolfenstein: the New Order is $20 at GameStop
DBqhams – TGS news:Gravity Rush on PS4, Dragon Quest Builders, Bloodborne DLC, Dark Souls 3, Playstation VR, and PS4 price drop in Japan
Topic of the Week:
DESTINY 2.0 – What you like/dislike about TTK? Also, what troubles lie for the gamers that don't buy TTK?
If you enjoyed the podcast and would like to join the conversation please feel free to reply to this post, or drop us an email at Podcast @ Band of Gamers . net!
– The Band of Gamers crew
Podcast: Play in new window | Download