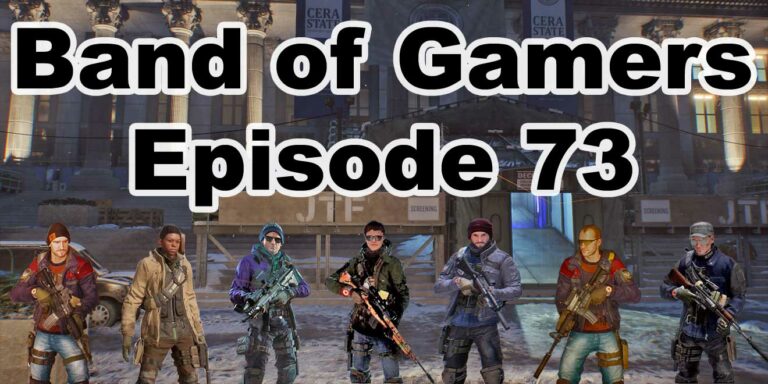 Band of Gamers Podcast
Episode 73, January 23, 2017
In this episode of the "Band of Gamers" podcast the guys talk about what they've been playing, as well as this week's gaming news.
---
---
If you enjoyed the podcast and would like to join the conversation please feel free to reply to this post, or drop us an email at:
Podcast @ BandofGamers.net!
– The Band of Gamers crew
---
Show Notes: Messy and Unfiltered 😉
Segment 01: What we've been playing (up to three games each,)
Grey – Elite!
DBQHams – Titanfall 2 campaign; Gears of War: UE; Halo Wars 2: Blitz
Osiris Prime – Killer Instinct, Rocket League, Watch Dogs campaign finished/ Walking Dead S1 E1 (backlog gaming)
Zeux – Stars in Shadow (PC), Warhammer 40,000: Sanctus Reach, Middle Earth: Shadow of Mordor (PS4)
Segment 02: This week's gaming news (2 stories each / 8 total)
Zeux
Nintendo Switch Predicted to Sell 40 million Systems by end of 2020
Call of Duty: Infinite Warfare, Battlefield 1 Lead 2016 US Game Sales – NPD
Osiris Prime Switch stories
http://www.ign.com/articles/2017/01/20/nintendo-switch-will-have-miis-but-they-wont-be-mandatory
http://www.ign.com/articles/2017/01/20/nintendo-considering-video-streaming-services-on-switch-post-launch
DBQHams
Playstation 4 selling two to one over Xbox One
http://arstechnica.com/gaming/2017/01/reports-ps4-is-selling-twice-as-well-as-xbox-one-overall/
Grey –
Segment 03: Topic of the Week?
Podcast: Play in new window | Download