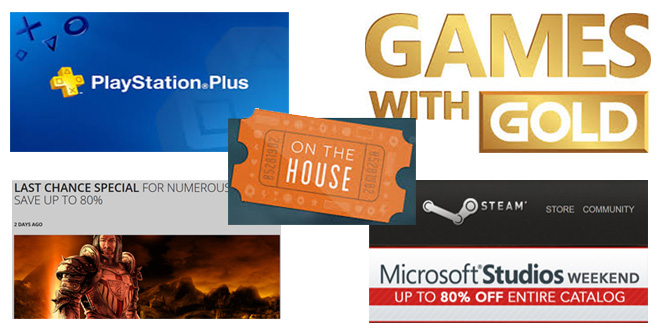 Labor day weekend is here!!! WOOT!
Before you get pre-occupied with your "long weekend" plans, like end of summer BBQ's and trips to the beach,  don't forget to grab your FREE GAMES and check out some awesome WEEKEND SALES!
[divider]
XBOX Live Games with Gold:
This month on the XBOX One you get Strike Suit Zero and Crimson Dragon.
And on the XBOX 360 don't miss the highly rated Dishonored.
[divider]
PlayStation Plus:
On the PS4 you get Road Not Taken and Fez.
On the PS3 you get Crysis 3 and Proteus
And on the PSVita you get Dragon's Crown and Metrico.
[divider]
EA's "On The House"
Don't forget to swing over to Origin.com for a blast from the past with a free copy of Wing Commander 3.
[divider]
And while not free, you need to check these sales out!!!
[divider]
SteamPowered.com for up to 80% off Microsoft title this weekend!
THIS INCLUDES HALO SPARTAN ASSAULT (no co-op) FOR $1.69!!!
And the awesome Age of Empires series is on sale again, as well as many other excellent titles.
[divider]
And finally…
GOG.com has 35 they will no longer be offering after this weekend at super discounted levels.
This includes Red Faction 1 and 2 for $2 each.
[divider]
Well that's all the sales and free games I came across this week. If you find any sales or deals please post a reply to this post with links to them.
As for me, I'm headed off to the wilderness to start a fire, down some cold ones, and then play some co-op multi-player rounds of, "try not to burn the marshmallows," with the grand kids 😉
So until next time my friends,
Game On!
Grey